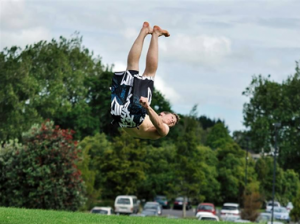 Tricking
Tricking incorporates techniques from martial arts, gymnastics & break-dancing in order to create an "aesthetic blend of kicks, flips and twists".
Parkour
Parkour is a discipline where practitioners adapt their movement to overcome physical obstacles in their environment.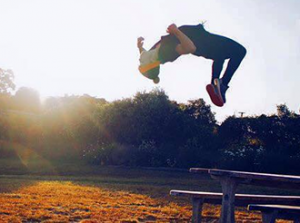 Freerunning
Sometimes seen as the crossover between Tricking and Parkour, Freerunning is a creative expression through the freedom of movement.
Partner Acro
Partner acrobatics covers a wide range of disciplines, centering around tricks performed most often by two or three people.
TESTIMONIALS
My daughter and her 2 cousins attended the workshop in the first week of the holidays. They had a fantastic time. The instructors were professional while still being lots of fun. The kids took away so much, gained lots of confidence and learned some new skills. My daughter and one of her cousins will be joining the weekly class next term (cousin number 2 lives away from Hamilton and is very disappointed she can't come back till next holidays) thanks so much Project Air! Highly recommend!

- Kayla -

My son love his Parkour lesson yesterday! The coach lead the class well and I was impressed at how he was able to keep all the kids active with so many. He can't wait to come back! Top work and thank you.

- Monique -

Thank you so much guys.. Dylans Birthday was an absolute success...10 boys and 1 crazy dad had a brilliant time here this afternoon. Sam....you were AWESOME

- Paula -

Some of my parkour boys had a go at your beginner challenge. Our gear isn't as flash, but they had fun. Keep the inspiration coming Project AIR!!

- Katrina -
View All